XRP is used synonymously to describe one of the oldest cryptocurrencies and its unique approach toward related transaction volume problems. The XRPL Ledger system is revered around the globe, mostly feared by payments firms such as VISA and Mastercard, as XRPL tends to globalize the payment processing capabilities. Ripple Labs is the larger picture behind developing XRP and XRPL as products to target banking partners to share their capability of processing financial transactions internationally at cheaper and faster rates than other competitors.
The currently used technology, SWIFT, is good, but when it comes to saving transition fees, XRP has an edge. Moreover, including anti-money laundering and Fraud detection features has allowed XRP to showcase the technical superiority to add big firms like American Express as their clients, along with 50 top leading banking firms. The only shortcoming is the indirect control of Ripple Labs with the code and capabilities of XRP, enough to push decentralized cryptocurrency investors toward other projects.
XRP's penance in the form of consolidating in a narrow zone away from the sight of key moving averages since June 2022 was intimidating. Even the strongest believers of XRP exited this crypto during this phase. But the gradual developments have helped XRP break out of its consolidation at $0.39 and touch $0.54.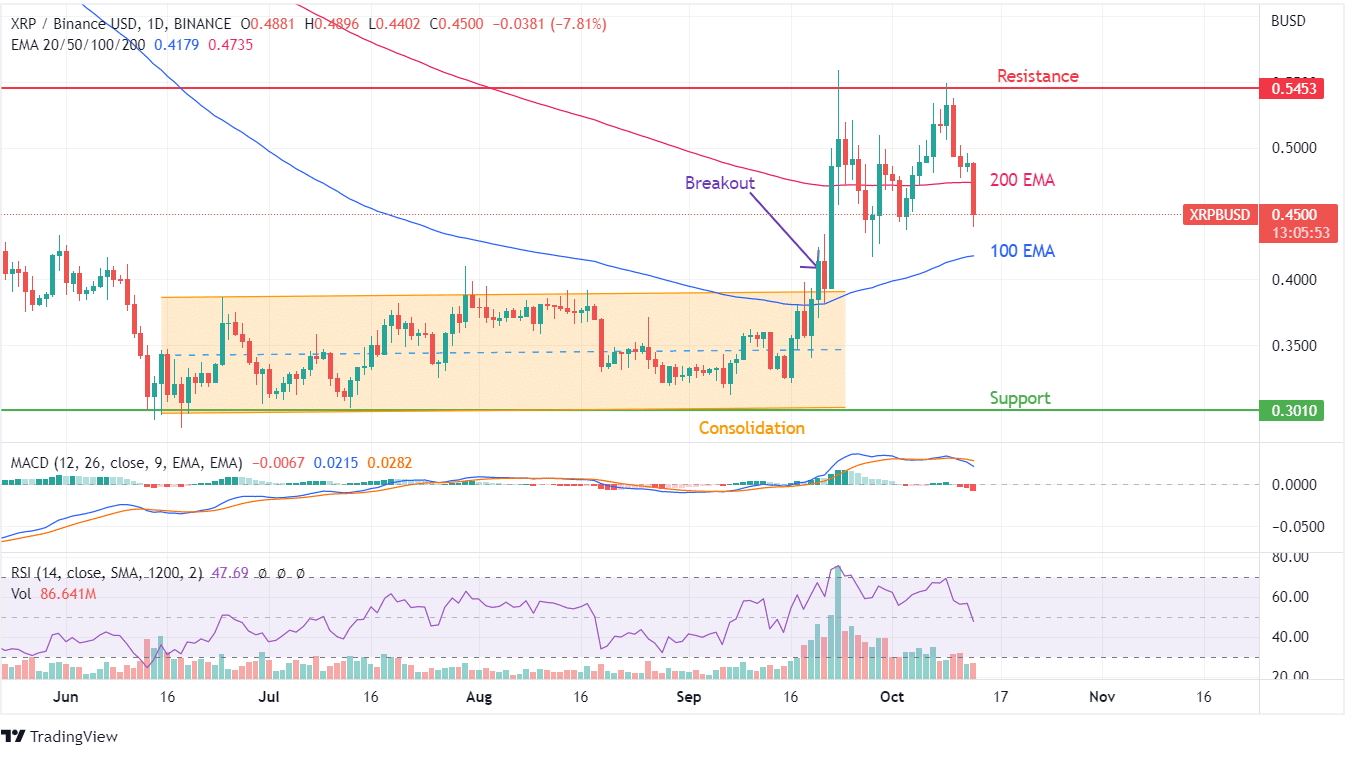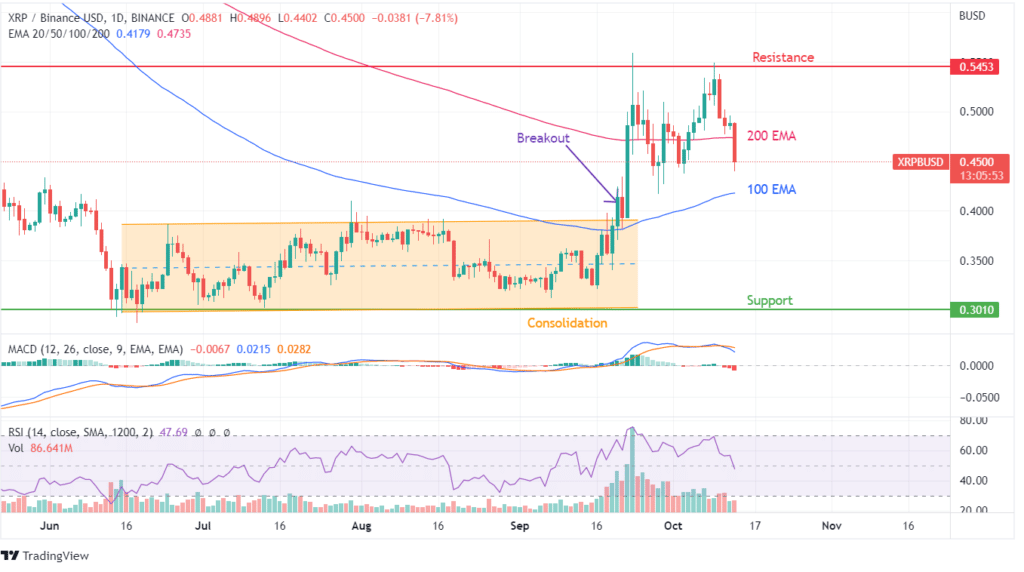 One glance at the price action and witnessing XRP overcoming both 100 and 200 EMA in the same swing is exciting. Not only the price movement but transition volumes and technical indicators also boasted a successful bull run. In a time of negative and consolidated price action, a major cryptocurrency breaching resistance is a strong sight.
RSI has retraced from its peak value as XRP has already undergone a profit booking, but the prices are still in place for a future positive retracement. The latest trading value of XRP has reached closer to the 100 EMA, but considering the marginal decline in a single day, similar positive action can also be expected. MACD has made a bearish crossover with wider negative movement in the short term, but since the crossover was developed on a positive axis, the outlook for XRP remains highly positive.
On weekly charts, XRP is moving towards engulfing the positive gains made in the last week, making a consolidative movement for the last three weeks. $0.44 can induce renewed buying strength for XRP, but the broader outlook is still unclear.
Weekly charts also confirm the presence of strong resistance at $0.54. XRP heading towards $1 seems highly possible as the SEC proceedings are gradually moving to an end.