The crypto market is currently under the bearish impression. The opening period of the ongoing month was great. The traders were amazed by the improvement and thus eyeing for a higher level to be breached. Well, the upsurge soon invited the selling pressure. The coin began dribbling since then, and till date, it couldn't improve. The chances are ripe that from the next month, the coin would improve and close the quarter with a profitable digit.
Ripple Price Analysis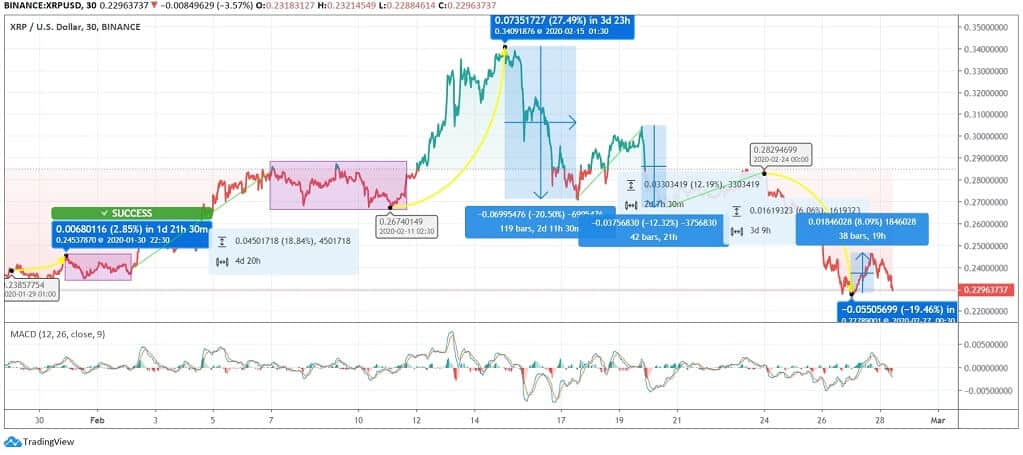 On January 29, the XRP coin was trading at $0.238, and then, it escalated to $0.245 by 2.85%. The currency traded at the same level till February 02. Later, Ripple price escalated to $0.282, but then again, it marked moderate movement till February 11. The price escalated to $0.340 by a massive hike of 27.49% in the next three days. From this high, XRP price dribbled to $0.270 by 20.50% on February 17. Ripple coin improved to $0.303 on February 24. Later, the price dropped to $0.237 by 19.46%. The price improved to $0.248, but the price again dribbled to $0.229.
The current price of Ripple cryptocurrency is trading at $0.229. The chances of dropping to the immediate support level at $0.226 are relatively more than climbing to immediate resistance level $0.246.