Ripple has marked a volatile movement in the year-long chart. The currency registered regression in the first quarter but jumped tremendously in the second quarter.
From the third quarter onwards, the fall embarked on the coin. In the current quarter, XRP coin has reflected a slight recovery. There is high speculation for the coin to remain intact and close the year with a profitable digit.
Ripple Price Analysis
The XRP coin started dealing at $0.38683. The price slipped to $0.3202 by 17.21% in January.
In February, the coin remained tight around $0.324 and reflected 1.12% escalation.
In March, the price dropped to $0.314 by 3.14%. The first quarter closed with regression of 18.82%.
However, the escalation started in April. The price counters moved from $0.314 to $325 by 3.43%.
In May, Ripple price jumped to $0.439 by 35.17%.
In June, the price registered a fall. The price counter touched $0.397 by 9.96%.
Despite heavy fall, the coin booked escalation of 25.71% in the second quarter.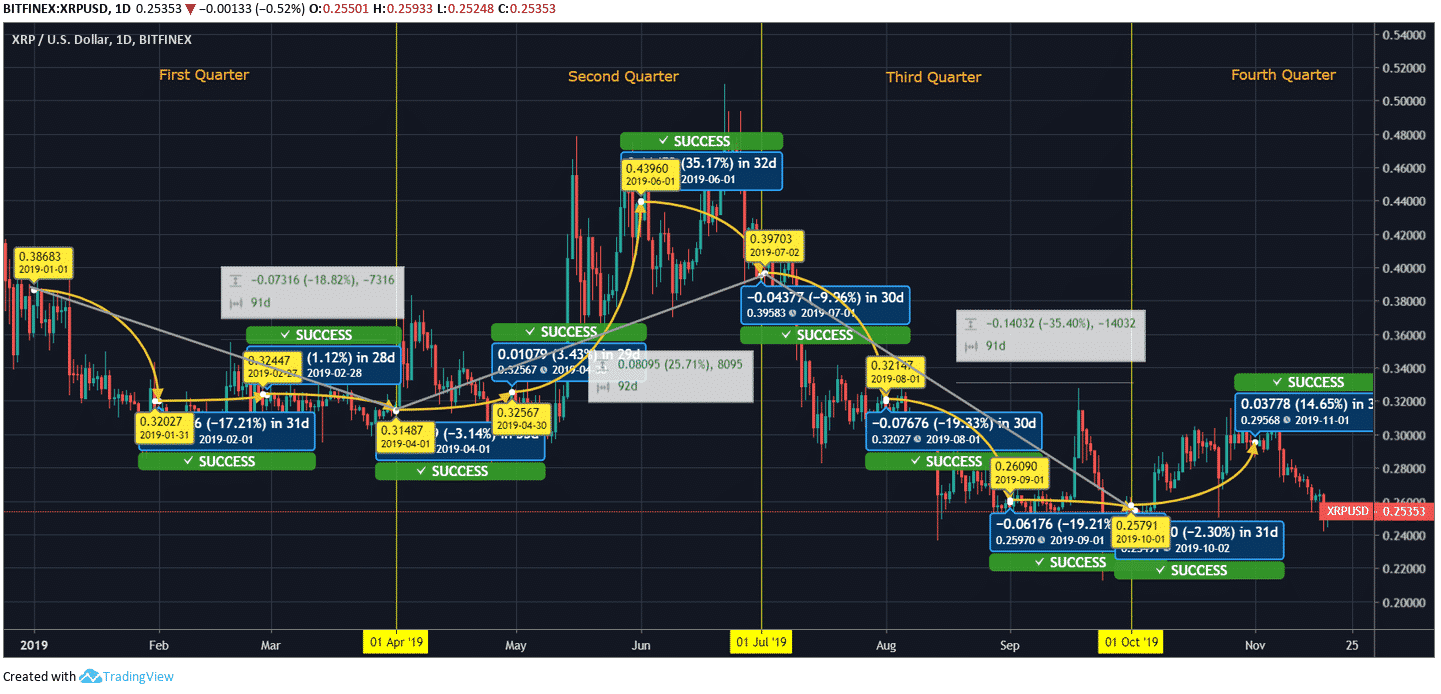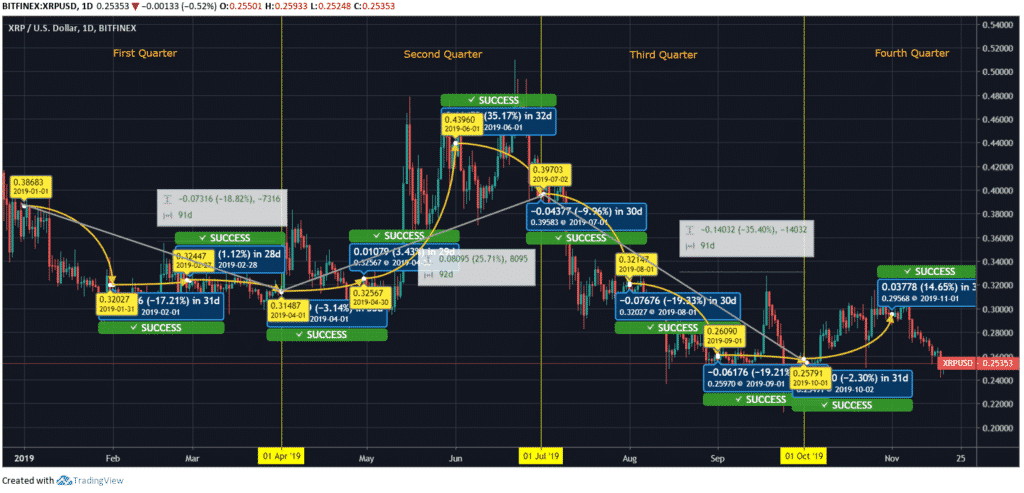 In July, the downtrend continued that started in June. The month-long run registered regression of 19.33% as the XRP price was at $0.321.
In August, Ripple slipped to $0.260 by 19.21%. In September, Ripple was trading around $0.257 and marked a 2.30% loss.
In October, the currency jumped to $0.295 from $0.257 by 14.65%.
Ripple has again dropped in November month. In the 20-days run the price counter has reached to $0.253.
XRP coin is anticipated to give a positive result in the future. For intraday traders, the currency is likely to bring profit.
The price of Ripple is heading towards the immediate resistance level at $0.261. Ripple is expected to give best results to long-term traders.
| | | | |
| --- | --- | --- | --- |
| Resistance Level | Price | Support Level | Price |
| R1 | $0.261052 | S1 | $0.24946 |
| R2 | $0.265603 | S2 | $0.242419 |
| R3 | $0.272644 | S3 | $0.237868 |